November 26, 2023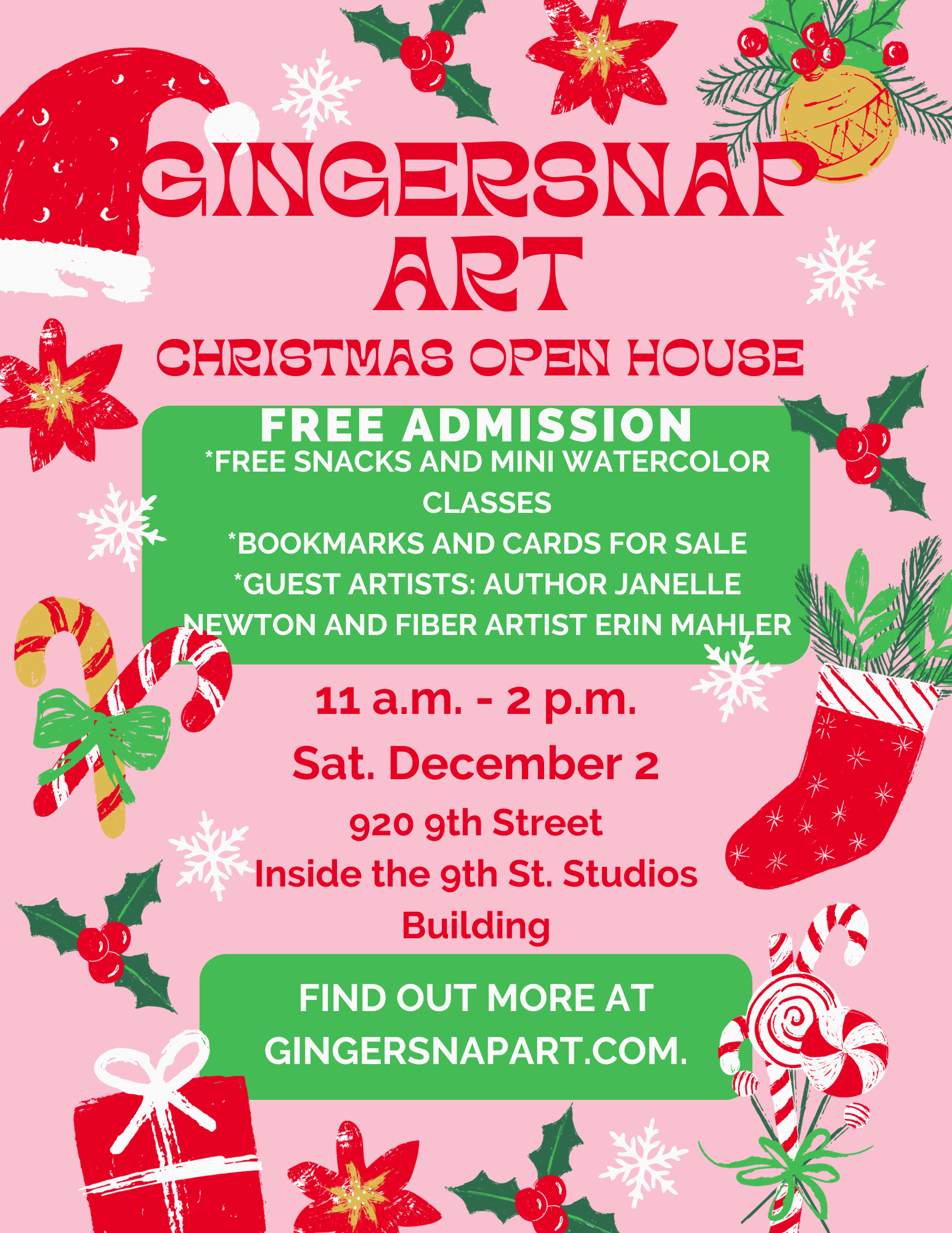 Join Us for Festive Fun at Gingersnap Art Studio's Christmas Open House!

I'm thrilled to invite you to Gingersnap Art Studio's Christmas Open House, where we're merging creativity, art, and the joy of the season! You're invited to enjoy two complimentary watercolor painting classes, each lasting around 15 minutes. No cost—simply drop me a message to secure your spot.

At 11:30 AM, we'll paint beautiful Christmas trees with watercolors. Then, at 1:00 PM, let's create charming Christmas ornaments using this magical medium. Please choose one of these classes to attend, ensuring everyone can join in the fun.

But wait, there's more! Explore a collection of delightful holiday goodies available for purchase, including cards, bookmarks, art class gift certificates, and personalized pet or house portraits—perfect for heartfelt gifts.

My studio, conveniently located at the corner of 9th and Travis St., is accessible through the small gate in the carport area. Once through the gate, please climb the stairs. My studio is the first one at the top of the stairs.

As an added delight, we'll have two esteemed guest artists joining us: Janelle Newton, a local author, and Erin Mahler, a local fiber artist. Their creative presence will add another layer of charm to our celebration!

Mark your calendar for December 2nd, starting at 11 AM until 2 PM. Swing by to share cookies, chat with guest artists, and immerse ourselves in the festive spirit.

Let's celebrate this special time together through the magic of watercolors!

Warm regards,

Gingersnap Art Studio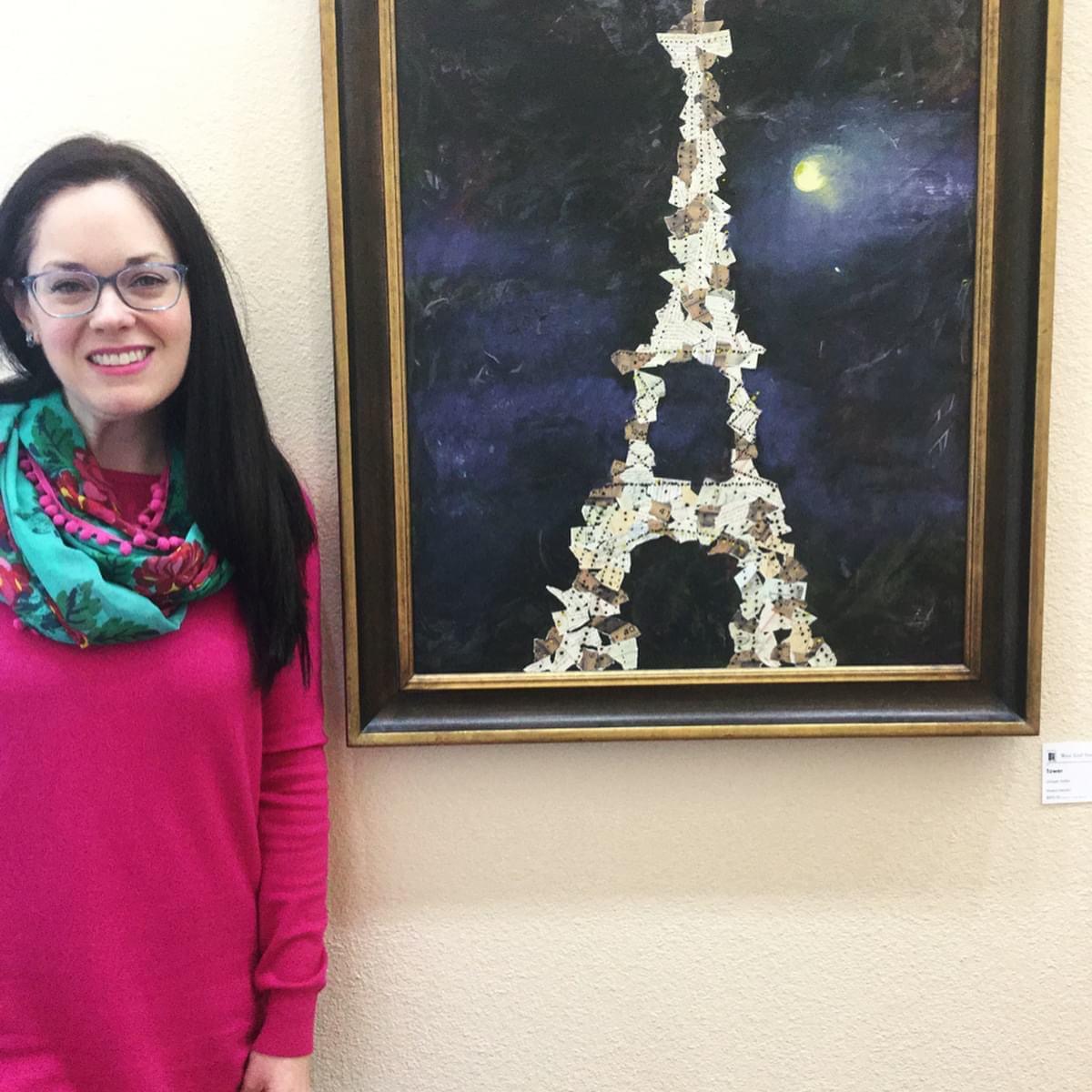 Today is my birthday! I'm 43. I love birthdays and the first day of the month and Mondays because they feel like new beginnings. I like change and newness.

I'm sharing these 2 photos to tell you a bit about myself and my life.

In the first photo I'm standing beside a painting/ collage from an art show that debuted in spring of 2020. It turned out to be a bad time for an art show. 🙁 But a memorable time.

In the second photo I'm in my bathroom. I miss that bathroom with the big bathtub. I now live in a travel trailer. As you can imagine there's no bathtub. You might have noticed I'm wearing overalls. They are my uniform. I have 3 pair. Next week I will have 2 more pair. A little birthday gift to myself.

I always feel nostalgic around my birthday. And that makes me want to share wisdom. But really I'm not very wise. So my list of wisdom is short.

Here's what I've discovered:

1. There is a God. Get to know Him.

2. You'll feel better if you pet a dog.

3. Ask for help.

4. If you want to change how you feel, change what you think about.

5. Embrace the wrinkles, but use expensive moisturizer.

6. Exercise is good.

7. Worrying is useless.

8. Celebrate everything.

9. Wear silly costumes.

10. There are very few things in life that you HAVE to do.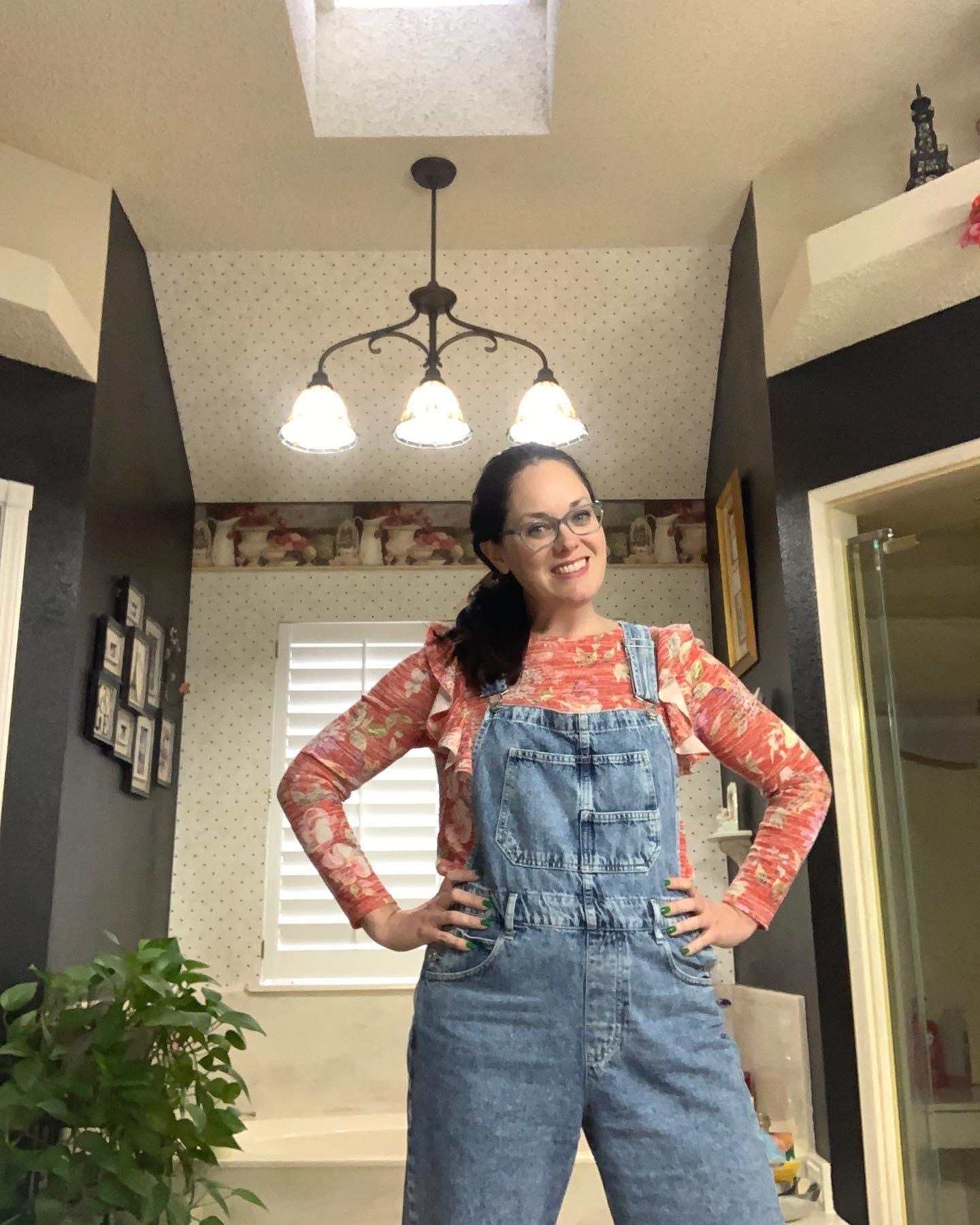 February 20, 2023

I have a new art studio! My space is in an old building in downtown Wichita Falls. The vibe is cool and often hosts art events.

I started teaching classes there in January.

I started teaching art in 2003 right out of college. My first gig was teaching a general "kids art" class at the Kemp Center for the Arts.

I think I lost money on the class. I spent everything I made on stickers, treats for the kids and denim which I sewed into tote bags for the kids to take their projects back and forth between home and art class. But I absolutely didn't care. I was having a blast.

On the last day of class several students gave me gifts. One sweet boy was so excited to give me a bracelet that he picked out to match my shoes. They were very ugly, comfortable shoes that I wore every class. (I'm not very fashionable.) It was the sweetest thing!

Eventually I started teaching for other agencies around town. Never again would I make tote bags or be given a bracelet to match my shoes.

In 2010 I went back to school and got my Master's Degree in Counseling Psychology. I started working at the MSU Counseling Center as a graduate student assistant and after graduation I was hired there.

It was an amazing job. I worked with the nicest people. We had parties for every holiday and celebrated everyone's birthday. The counseling part was good too!

But sometimes life gives you a new assignment.

My new assignment was homeschooling my son. It wasn't something I set out to do, but as he's wrapping up his senior year, I'm so thankful that I was able to spend my days with him.

A few years into homeschooling I started teaching art classes again here and there.

I would occasionally rent out a space and hold classes and camps. It was a nice arrangement.

I painted at home in my kitchen or an extra bedroom. but my dream has always been to have a studio in an old building.

In September of 2022 my family sold our house. We had been working toward this goal for years. It was exciting and scary. We moved into our travel trailer. And we are still in the travel trailer. There are 3 humans and one dog here. (As I type this my son is sitting beside me showing me some motorcycle helmets that he likes.)

I have enjoyed being in the trailer. We spend more time together here.

But there's no room for art.

So it was time to have a space were I can teach and paint.

I'm so thankful to be here!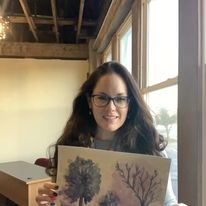 June 2, 2022
Fun fact about me: I love The Office. It's my absolute favorite TV show. Dwight is my favorite character. He is so intense and driven.

In the show's 111th episode the Dunder Mifflin corporation is headed for bankruptcy. They hold a shareholder meeting and any shareholder can attend. They can ask questions and voice their opinions. The shareholders stand in line and talk when they are given permission. It's not one of the best episodes- in my opinion. It's not even a good episode. It's better than Scott's Tots, but that's not saying much.
If you have read all of this and you are not a fan of the show, I'm impressed. Ok, take a leap with me. You and I are like Dunder Mifflin. We are basically a corporation and we sell (or give away) stock.
Who owns stock in YOU Inc.? Did they pay fair market value for it? Did they steal it? Did you hand it over for free? If so, stop doing that! Your stock is valuable. Who doesn't own stock but keeps showing up at the shareholder's meeting trying to have a say?
Remember, only the people who own stock can have a say. The shareholders in my life are people who have invested in me. They have shown that they are committed to helping me grow, and they are there for me when I'm headed for bankruptcy.
In different seasons I've been closed to all new investors. And at other times I'm actively reaching out to people. I'm constantly evaluating who is in my life and how much weight their opinion holds. This is my best and most helpful form of self care.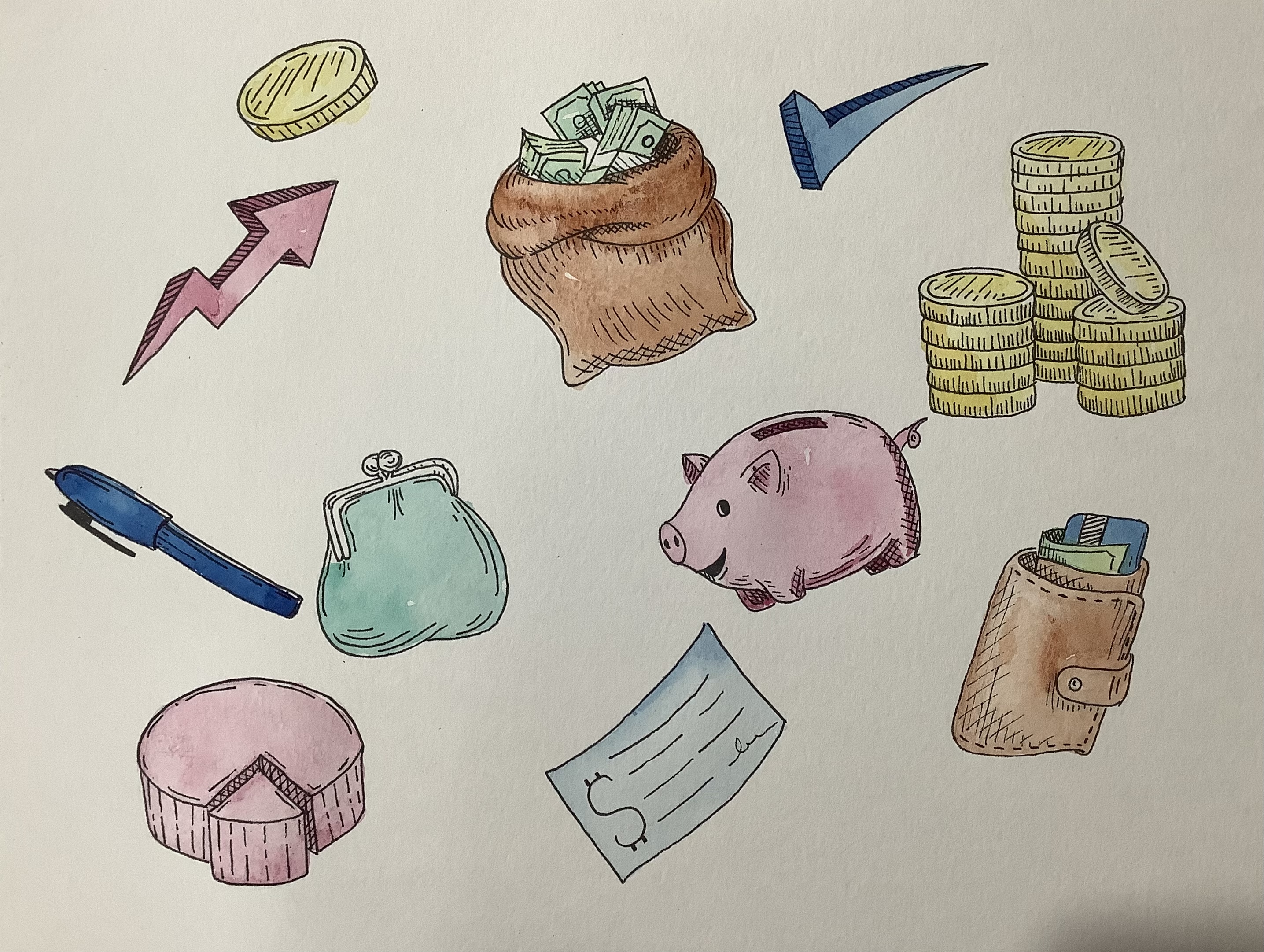 I love bubble baths and reading books. They recharge me, but managing who speaks into my life is a much better way for me to keep my stress down and stay on my path.
May 10, 2022
Do you have a daily uniform? Mine is overalls. I have 2 pairs. One for work and one for fancy occasions. (I just paused and checked boden.com to see if some overalls I've been eyeing have dropped in price. No, they haven't and they no longer have my size).
I like having uniform because it frees up mental space. I don't have to think about what to wear. I can leave my mind unburdened by clothing choices and use my brain power for other purposes. I don't wear overalls everyday, but I wear them several days each week. In the summer I wear dresses. Not because I'm fancy. Because I'm lazy.